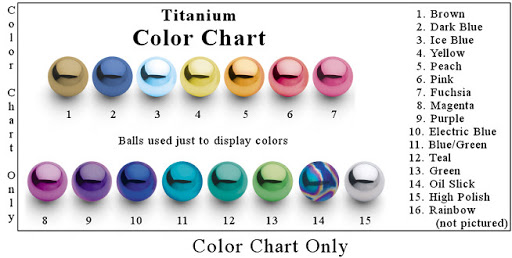 How to Anodize Titanium
The following is general information on anodizing Titanium and how the process is done.  IT IS NOT SUGGESTED OR RECOMMENDED THAT YOU ATTEMPT THIS PROCESS.  ALWAYS USE A PROFESSIONAL TO DO THIS TYPE OF WORK.  PLEASE CONTACT US WITH ANY QUESTIONS.   CARLSON MANUFACTURING INC.
Titanium is a light, strong metal that is highly resistant to corrosion. Anodizing is the process of using electricity to create a thin layer of metal oxide on the surface of the metal. While other metals such as aluminum are commonly anodized to protect them from corrosion, this is not necessary with titanium. The primary purpose of anodizing titanium is to change its color. The thickness of the titanium oxide layer changes the wavelengths of light that are reflected from its surface, thus altering its apparent color.
General information
To anodize titanium the process requires an appropriate solution that will conduct electricity. Common electrolytes used to anodize titanium include ammonium phosphate, Borax and trisodium phosphate. The precise electrolyte  used is not important, s
o long as it's not a chloride, nitrate or sulphate.

These compounds produce dangerous vapors and acids when subjected to electricity. A typical concentration of an electrolytic solution is about 5 grams of electrolyte per liter of distilled water.  A tank made of a nonconducting material is filled with enough solution to cover the titanium work piece.
An anodizer that can deliver accurate, steady voltage in the 25- to 120-volt range is used, since this will determine the color of the anodized titanium. An anodizer essentially consists of a battery, voltage regulator and power switch along with a few other components.
The electrode from the negative terminal of the battery is connected to a piece of non rusting metal. The metal piece is immersed in the electrolytic solution so that the immersed surface area of the metal piece is greater than that of the titanium workpiece .
The electrode from the  positive terminal is connected to the titanium work piece with titanium connectors. The piece must be free of oils and other contaminants. All parts of the positively charged circuit that are in contact with the electrolytic solution must be made of titanium. The titanium work piece is placed in the anodizing tank.
The voltage  of the anodizer is adjusted to the desired setting and power is then applied. The time required to complete the process will depend on the current and the size of the work piece. A bronze color occurs at about 18 volts, pale blue requires about 50 volts and a bright green requires about 110 volts.  Once the desired color is achieved, the process is complete. The process to anodize titanium requires equipment designed for the specific purpose.
There are many good companies that can anodize titanium for you.  Please contact us if you need assistance.
We recommend Live2Lead Minnesota for your Leadership training needs.